#15 Playa Del Carmen, Mexico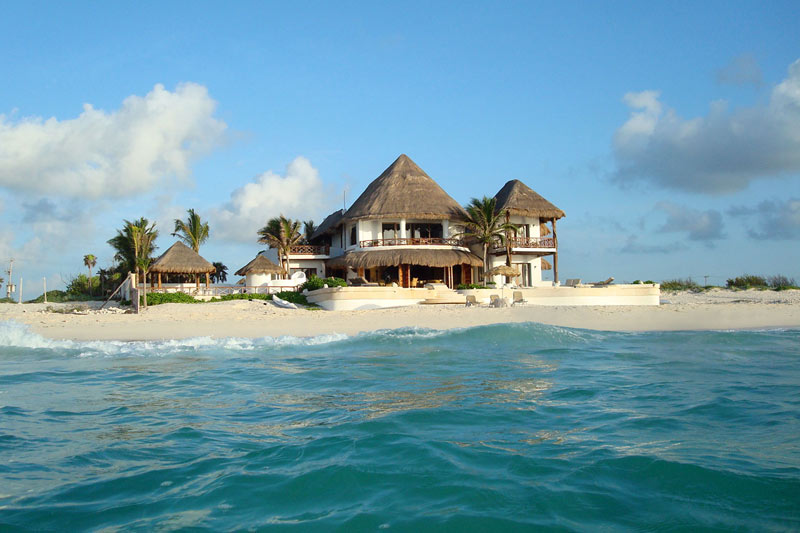 Population: Just over 150,000
Average Annual Temp: 80°F
Real Estate Prediction Meter (6 of 10)
Quality of Life (10 of 10)
Coming in at number fifteen is a beach with a totally different vibe. Playa Del Carmen, Mexico has the essence of the sun-drenched sands of Southern Europe and the Mediterranean resorts that is unique among oceanside communities throughout Latin America. Fittingly, this city's location in the state of Quintana Roo, Mexico, is squarely in the middle of the Riviera Maya; the Mexican equivalent of the European destination of the same name.
Playa (as the locals refer to it) views itself as an alternative to its more built up neighbors to the north. The pace here is more relaxed and has been compared to European venues such as Nice, France. Definitely off the traditional tourist path, this small enclave is easy to get to. The international airport in Cancún has many regularly scheduled flights from major US and European cities and is only an hour's drive to Playa Del Carmen.
Another option for air travel is the airport at Cozumel, across the bay roughly twelve miles to the east. Regular ferry service handles scheduled airport transfers to Playa Del Carmen. The ferry ride is about thirty minutes and only costs about fifteen dollars. Regardless of which flying option is selected, getting to Playa is easy and affordable.
What Makes Playa Del Carmen Special
To sum up the Playa Del Carmen difference with a single word is easy: ambiance. There is a pronounced European, Canadian and Argentinean influence in this town of 150,000 that has created a special "euro-centric" atmosphere that is not duplicated anywhere else on the Yucatan Peninsula. Like many beach communities, Playa has transformed from a sleepy fishing village to one of the most desirable expat destinations in the area.
The main hub for activity is El Zócato, a public square within walking distance of the beach area. Perhaps the most distinctive feature of the city is La Quinta Avenida, literally, Fifth Avenue. Just like its New York counterpart of the same name, this twenty block strip features high end European and American stores, and a great selection of gourmet and higher end chain restaurants.
A number of luxury resorts and residential condominiums have been completed or are scheduled to be developed in the near future. To the south of the center of town, Playacar, a residential and tourist project promises to be a prime destination with high end resorts, a golf course, and other amenities that are more reminiscent of the European Rivera than the Riviera Maya.
With all this growth, Playa Del Carmen still retains a local flavor with small cantinas and bars offering local dishes and a Mexican spirit. It is possible for those seeking a less tourist-focused environment to totally immerse themselves in the rich and diverse culture of the region and enjoy that unique style of living.
Cruise lines have begun adding Playa Del Carmen as a port of call. Being able to enjoy the white sand beaches, visit the nearby Mayan ruins, and discover a bit of Europe in an unlikely Caribbean location make this sea-going experience all the more special.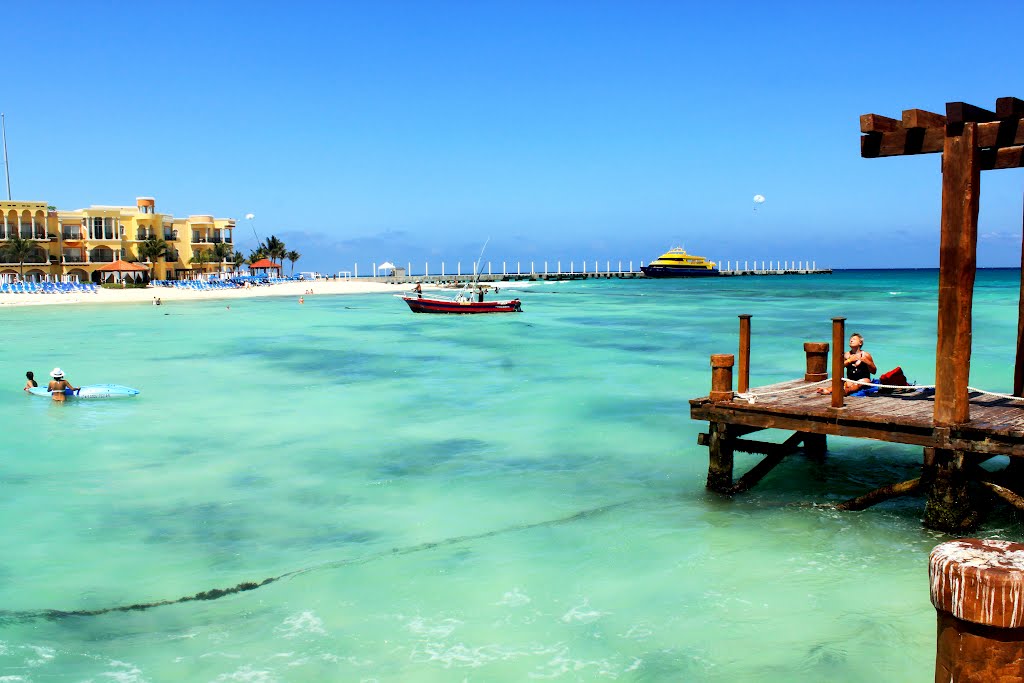 Many Adventures To Have
Although Playa is fast gaining a reputation as a place to see and been seen, there are a great number of adventures available to residents of the area. Tours to the nearby Mayan ruins of Tulum and Chichen Itza (whose Kukulkan Pyramid was elected as one of the seven wonders of the modern world on July 7, 2007) make discovering the ancient world of the Mayans an experience to remember.
For nature lovers, visiting the underground tunnels of the Rio Secreto, can exhibit that not all of the beauty of this part of Mexico is above ground. Several eco-tours make it possible to appreciate the biodiversity of the area, including its lush vegetation and animal species as well as great bird watching opportunities. Sian Ka'an Biosphere Reserve and Ria Lagartos are two of the most popular protected nature reserves in and around Playa. The Xcaret Eco Park combines both archeology and ecology in one location where expats can discover the special symbiosis of ancient culture and biodiversity.
As could be expected, there are lots of ocean activities to for adrenaline lovers to enjoy. During the summer months, intrepid water enthusiasts can swim with White Sharks and Manta Rays at Isla Mujeres, roughly an hour boat ride away. For a less adrenaline filled, but still unique adventure, Turtles of Akumal, in the Bay of Akumal (an half an hour south of Playa Del Carmen), lets snorkelers get up close and personal with green sea turtles.
Expat Potential Is Definitely Bueno!
Playa Del Carmen is, far and away, the fastest growing community of the Riviera Maya. From its early incarnation as a stop for backpackers and hippies, this beach town now occupies a unique Euro-chic niche. The influx of foreign dollars has increased development and made the potential for a solid return on investment a likely outcome. The cosmopolitan makeup of Playa certainly makes it more convenient for English speakers who might be concerned about learning a foreign language.
The infrastructure in Playa Del Carmen is well developed and can be expected to continue its progress as the expat population continues to grow. Its accessibility to the US, Canada and Europe makes it a desirable choice to relocate or retire. With a more relaxed pace of life than either Cancún or Cozumel, but close to many of the same attractions, Playa Del Carmen can be a perfect place to enjoy "la dolce vita" for years to come.
More Playa Del Carmen Resources
Here are a few other great sites to help you dig deeper.